The LA Galaxy never had a year like 2017, and that's a fact that rings true for all the wrong reasons. For a franchise defined by historical success, the 2017 season was a catastrophe. It was a season headlined by failure and, ultimately, by change.
That change began midway through the 2017 campaign, one which saw the Galaxy miss the playoffs for the first time since 2008 while finishing dead last in the Western Conference. Sigi Schmid was brought in half way through the year to right the ship but it was never going to happen that same season.
Looking ahead to 2018, though, there is reason for optimism. The club has addressed several needs and addressed the holes in last season's roster in an effort to bounce back from what was the worst performance in club history.
"With the Galaxy, and some other teams in this league, success is the ultimate goal and that's MLS Cup," Schmid told SBI. "That's the ultimate definition of success because there are clubs in this league with extremely high expectations.
"Success for us, though, in 2018 is making the playoffs because you can't win MLS Cup unless you make the playoffs. For us, we have to show again that we are a playoff team."
For the Galaxy to get there, they'll need to rely on a number of players both new and familiar. Much of the team's core stays the same as last season as stars like Giovani dos Santos, Romain Alessandrini and Jonathan dos Santos remain focal points. However, that core was fortified by a number of players from both the international and domestic markets.
It may take time for that unit to gel but, if it does, the Galaxy expect to meet the high standards set year after year.
"It's been a very tough preseason for sure, just in terms of the work they've been putting us through, but it's been great as well," midfielder Perry Kitchen told SBI. "Everyone is just getting used to each other. Everyone is adjusting to each other's habits, but at the end of the day, we're all professionals.
"It's a very seasoned group. That adjustment period has to be quick, which it has been. I feel like there's a lot of chemistry with the group and that it's a great locker room. I think that will show on the field throughout the season."
Here's a closer look at the 2018 LA Galaxy:
2018 LA GALAXY SEASON PREVIEW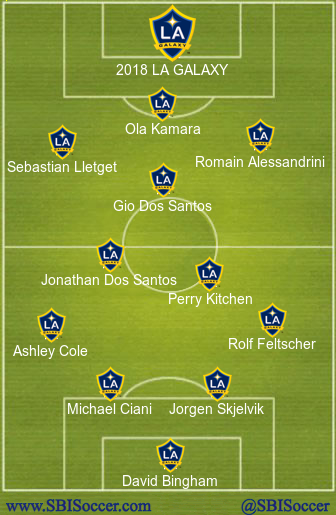 2017 Finish: 11th in the Western Conference (8-18-8, 32 points)
Key Acquisitions: Ola Kamara, Perry Kitchen, David Bingham, Rolf Feltscher, Jorgen Skjelvik, Chris Pontius, Servando Carrasco, Thomas Hilliard-Arce
Key Losses: Gyasi Zardes, Robbie Rogers, Jermaine Jones, Pele van Anholt, Clement Diop, Jack McInerney
Newcomer to Watch: Jorgen Skjelvik
Last season, the Galaxy's defense was, for lack of a better term, a sieve that kept on leaking. The team allowed 67 goals last season, good for second worst in the league, as inconsistency from both the backline and the goalkeeping position doomed the team.
Skjelvik is seen as one answer to that problem. Signed from Norway's Rosenborg, Skjelvik anchored his team's defense en route to three consecutive titles before heading the California, and has featured in both UEFA Champions League and Europa League play throughout his career. The pedigree and resume are there for a player who should be a vital piece to a rebuilt backline.
Pressure is On: Giovani dos Santos
For a number of reasons, the Mexican star will have to reach another level in 2018. The Galaxy will go as far as their enigmatic forward will take them and, with a team built around dos Santos' skillset, he'll have to provide meaningful production in the attacking end.
Meanwhile, on the international side, it's a World Cup year, making a hot start on the club level even more of a priority. The pressure is on dos Santos to step up, raise his game and be a true leader for this Galaxy team in a vital year for club and country.
Outlook
For the Galaxy, success or failure has always come down to the team's stars. It's a recipe that's been in place for quite some time as the Galaxy brought in bigger names, bigger talents and, ultimately, won bigger trophies.
The stars are in place. Giovani and Jonathan dos Santos are two of the most popular Mexican soccer stars out there and, with a World Cup looming, they'll be ready. Romain Alessandrini set the league alight during his debut season, even if the team's failures mean he flew slightly under the radar.
"In this league, every team tries to build around their DPs, so we have to put our DPs in a position where they can have the biggest influence on the game," Schmid told SBI. "The challenge for me is to get them into those positions where they have that influence and the challenge for them as players is to exert that influence and to take the team on their shoulders in key moments.
"That's something we need from Gio. He carries a big offensive burden for us. Alessandrini needs to come back with the same kind of season he had. With Jonathan, there were a lot of people that saw Jonathan as a No. 6 but he's really not. He's a box-to-box midfielder, and this year playing him more in that role, it makes his job easier as well."
But in 2018, the Galaxy's success may very well come down to the supporting pieces in place.
The Galaxy have a unique blend of talent outside of its three DPs. There are U.S. Men's National team veterans in David Bingham, Perry Kitchen and Sebastian Lletget, three players looking to battle back into the international scene. There are international additions like Rolf Feltscher and Jorgen Skjelvik as well as experienced MLS depth pieces in Chris Pontius and Servando Carrasco.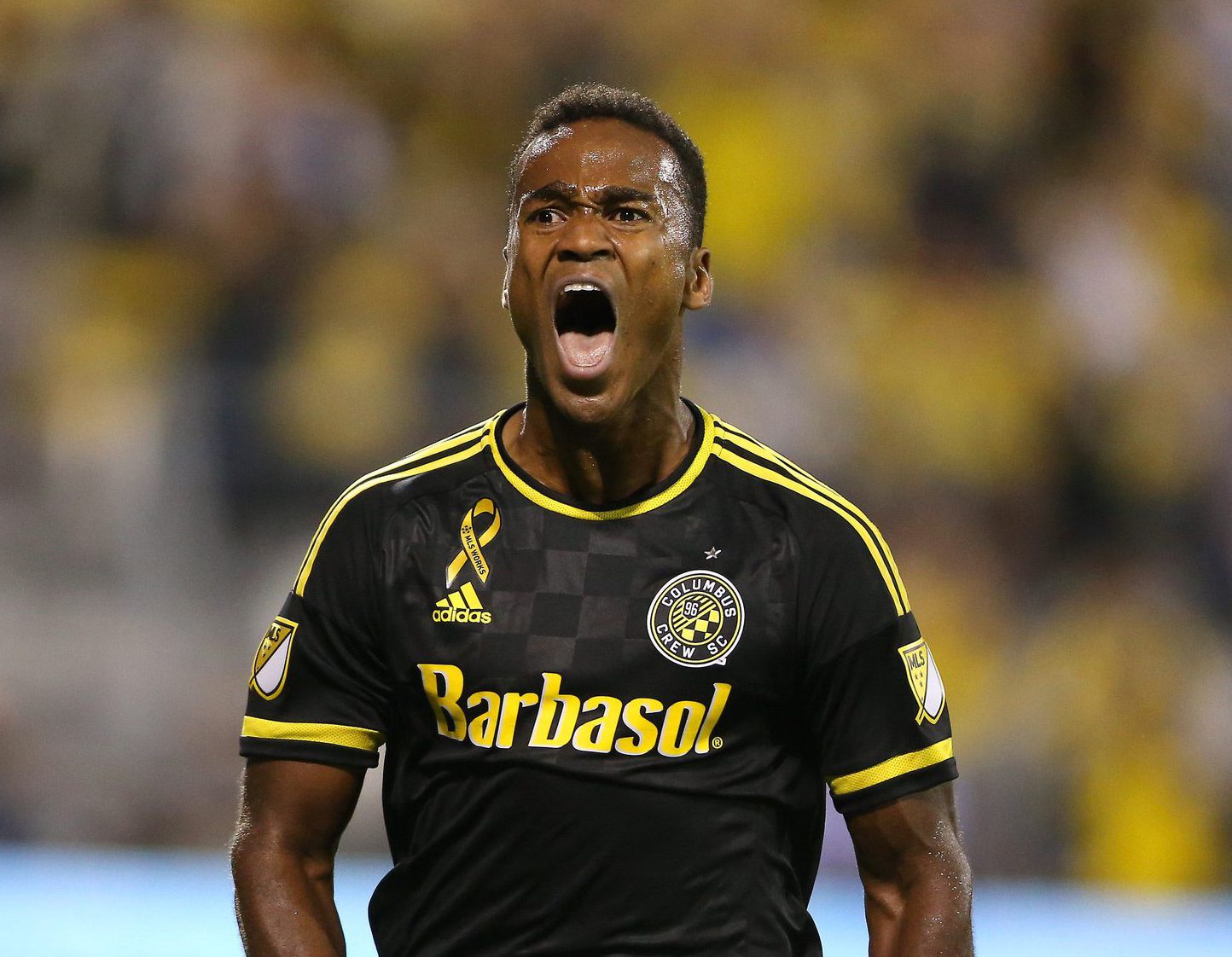 Perhaps the most important piece, though, is Ola Kamara, a player that comes to the Galaxy after scoring 34 goals in 59 games for the Columbus Crew.
"He's a guy that's a proven goalscorer in this league," Schmid said. "You can try and go outside and try and find a guy that can score goals in this league, but there's a little more comfort and security in bringing in someone with a track record of scoring goals."
While Kamara should be expected to join a talented attack with Lletget, Alessandrini and Giovani dos Santos, the defense will also need a major lift after an abysmal 2017. The good news is the additions of Feltscher and Skjelvik should help as the two join Ashley Cole and Michael Ciani in what is a very experienced backline. Add in Bingham as well, as the former San Jose Earthquake replaces what had become a revolving door of goalkeepers since Jaime Penedo left the club several years ago.
Protecting that backline is Kitchen, a player with proven success in MLS. After two up-and-down years abroad, Kitchen seems a perfect fit with the Galaxy. With Jonathan dos Santos as the more creative presence, Kitchen slides in as a No. 6, providing some balance to a Galaxy midfield that struggled to find any in 2017.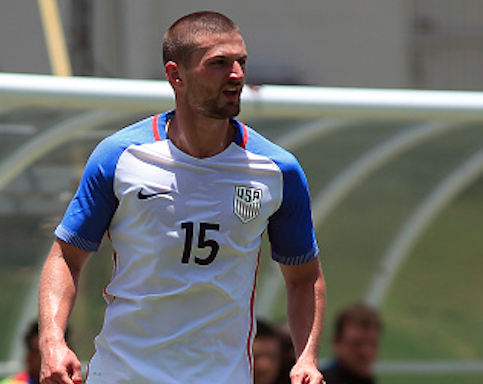 "There are some very, very talented players in that central core, and it's a pleasure to play with all of them," Kitchen told SBI. "For me, my role is just playing simple. It's breaking up plays. It's getting the ball to those guys, the guys that can create. For me, my role is very simple on this team so, as long as I can do that, I can just be me at my best."
Of course there are still questions. The new pieces need to fit together, and changes in the defense always take a bit of time to fully come good. The team's stars will need to find consistency while the always volatile nature of the Western Conference make a playoff berth anything but a certainty.
Still, the Galaxy feel good about where they are. After enduring an uncharacteristically bad 2017, the 2018 campaign is one highlighted by preseason optimism that the Galaxy can take a step towards being the team they're supposed to be.
"We just needed to plug some holes, definitely," Schmid said. "There were some areas where it was either players aging out or going back to Europe or we just didn't feel we had the quality we had earlier in the Galaxy's history. We had to bring in a bunch of new players in different position.
"You can never bat 100 percent when you bring in new players. Some are going to hit and click and there might be one or two that don't quite do what you think they're going to do… Now, it's a matter of everybody understanding their roles a little bit better."