The Timbers stretched their unbeaten run to four games in shocking fashion. Giovanni Savarese's side claimed their biggest ever win in Seattle in the storied rivalry with a 3-0 result.
Jaroslaw Niezgoda's header goal against the run of play in the 24th minute seemed to be a wakeup call for the Sounders, which had some clearcut chances go begging. However, things only got worse for the home team when defender Jackson Ragen was sent off. Santiago Moreno scored from the penalty spot and Dairon Asprilla scored a late tap-in.
Some newcomers enjoyed exciting debuts. Cucho Hernandez scored the winning goal in his debut for the Crew's win over the Fire, while Hector Herrera entered as a substitute during the Houston Dynamo's wild 2-2 draw with FC Dallas.
On Friday night, the latest installment of the Galaxy-LAFC rivalry did not disappoint, despite the fact that Gareth Bale was not ready in time to take the field for his LAFC debut. LAFC strengthened its lead atop the Supporters' Shield standings with a strong overall performance.
A late header from Rayan Raveloson helped the Galaxy mount a comeback attempt, but it was Jose Cifuentes and Cristian Arango who carried LAFC to another home win.
On the East coast, the Philadelphia Union raised many eyebrows with a gaudy scoreline in a win over D.C. United. Julian Carranza scored a hat trick and Alejandro Bedoya and Mikael Uhre each scored twice as the Union put seven goals past Chad Ashton's side.
Here are the results from this weekend's MLS action.
---
Sounders 0, Timbers 3
(Jaroslaw Niezgoda 24′, Santiago Moreno 82′ (pen), 85′)
---
Man of the Match: Jaroslaw Niezgoda continues to provide just what the Timbers need. He had a goal and an assist this time out, and has now scored four goals in his last four appearances.
Moment of the Match: Jaroslaw Niezgoda's 24th-minute goal seemed to help the Timbers come out of their shell after defending stoutly to open the match.
Match to Forget: Sounders defender Jackson Ragen was shown a yellow card just before half, then things turned nightmarish for him just one minute into the second half. Ragen was sent off with a second yellow as his team trailed 1-0.
---
NYCFC 4, Revolution 2
(Talles Magno 10′ (pen), Valentin Castellanos 44′ (pen), 82′, Gabriel Pereira 49′) – (Gustavo Bou 18′, 77′)
---
Man of the Match: Taty Castellanos scored twice to continue his push for the Golden Boot for a second-consecutive season. Castellanos was impactful from the penalty spot and open play as NYCFC grabbed an important win.
Moment of the Match: Castellanos' second goal iced the win for NYCFC and gave the hosts needed padding room to claim three points.
Match to Forget: Andrew Farrell not only conceded two penalty kicks was but sent off before halftime for a red card offense. A veteran centerback, Farrell will be disappointed with his afternoon.
---
Atlanta United 0, Austin FC 3
(Felipe Martins 9′, Ethan Finlay 17′, Sebastian Driussi 57′)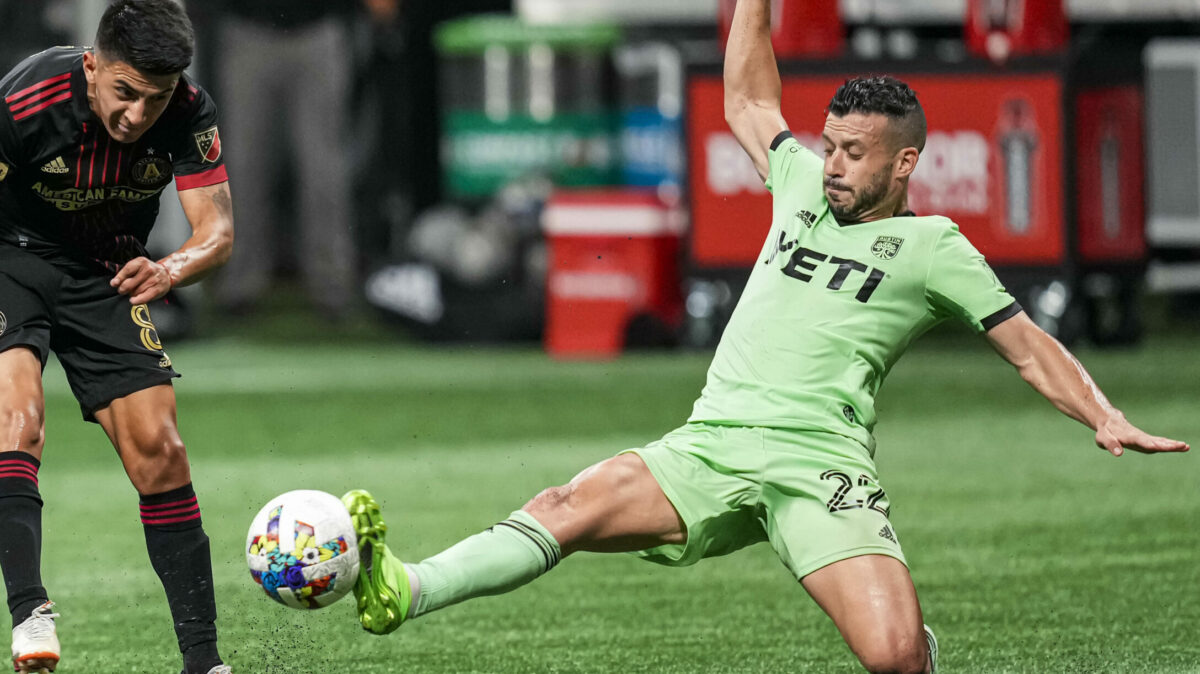 ---
Man of the Match: Ethan Finlay registered one goal and one assist as Josh Wolff's side earned a statement win in Atlanta.
Moment of the Match: Sebastian Driussi's goal capped off an impressive evening for Austin FC and subdued Atlanta United to an embarrassing home loss.
Match to Forget: Caleb Wiley had a forgettable afternoon at left back, struggling to deal with Ethan Finlay and conceding an error on one of Austin FC's goals.
---
Sporting KC 2, CF Montreal 1
(Romell Quioto 13′) – (Roger Espinoza 29′, Remi Walter 63′)
---
Man of the Match: Remi Walter played the hero for Sporting KC, scoring the winning goal and delivering a strong two-way performance for the visitors.
Moment of the Match: Romell Quioto had a late effort to equalize for CF Montreal in stoppage time, but missed wide of Tim Melia's goal.
Match to Forget: Sebastian Breza will want to forget his day for CF Montreal after being beaten by Roger Espinoza from a long-range chip in the first half.
---
Charlotte FC 4, Nashville SC 1
(Christian Fuchs 26′ (pen), Karol Swiderski 61′, Sergio Ruiz 89′, Andre Shinyashiki 90+1′) – (Hany Mukhtar 67′ (pen))
---
Man of the Match: Christian Fuchs scored the opening goal for Charlotte FC and also excelled defensively in the win. Fuchs won 11 duels, made nine clearances, and five recoveries, leading the backline once again.
Moment of the Match: Sergio Ruiz and Andre Shinyashiki both scored one minute apart to add an exclamation point to Charlotte FC's victory.
Match to Forget: Brian Anunga only played 45 minutes, but conceded one penalty kick and lost all four of his duels in his performance.
---
Toronto FC 2, Earthquakes 2
(DeAndre Kerr 71′, Jonathan Osorio 75′) – (Jeremy Ebobisse 26′, Jack Skahan 90+2′)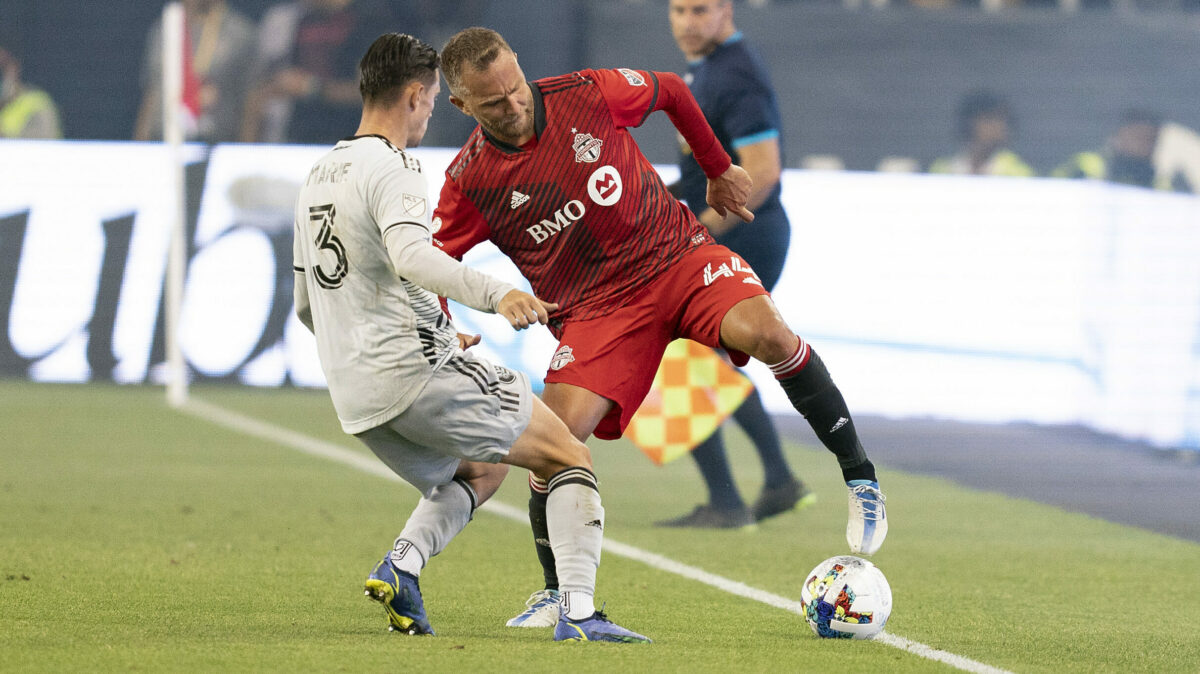 ---
Man of the Match: Jonathan Osorio stole the show for Toronto FC, scoring once and assisting once in a home draw. He also won five duels and completed two dribbles from his central midfield position.
Moment of the Match: Jack Skahan's stoppage-time equalizer helped the Earthquakes leave Toronto with one point.
Match to Forget: Jesus Jimenez was ineffective in attack for Toronto FC, missing all three of his shot attempts and losing nine of 13 duels.
---
FC Cincinnati 1, Red Bulls 1
(Brandon Vazquez 20′) – (Lewis Morgan 29′ (pen))
---
Man of the Match: Cristian Casseres was stellar for the visiting Red Bulls, leading all players in duels won (17), tackles (3), and completed dribbles (8).
Moment of the Match: Allan Cruz's ejection truly put FC Cincinnati in a major hole before Luciano Acosta also was sent off for a red card offense.
Match to Forget: Acosta's frustration boiled over in the final minutes as the veteran midfielder head butted Aaron Long.
---
Fire 2, Crew 3
(Rafael Czichos 29′, Chris Mueller 41′) – (Derrick Etienne 63′, 75′, Cucho Hernandez 83′)
---
Man of the Match: Derrick Etienne scored two second-half goals for Caleb Porter's side, helping spring the comeback win for the visitors.
Moment of the Match: Cucho Hernandez's chip past Gabriel Slonina completed the comeback for the Crew and subdued the Fire to a humiliating home defeat.
Match to Forget: Miguel Navarro was sent off in the second half for the Fire after elbowing Luis Diaz in the face. Navarro, who only recently returned to action, will now be suspended three matches.
---
Dynamo 2, FC Dallas 2
(Thorleifur Ulfarsson 69′, Teenage Hadebe 90+11′) – (Matt Hedges 27′, Jesus Ferreira 90+3′)
---
Man of the Match: Alan Velasco propelled FC Dallas' attack with three key passes, three shots and the assist of Matt Hedges' header goal in the first half.
Moment of the Match: Teenage Hadebe scored the latest non-penalty goal in MLS history by knocking in a rebound of a save in the 11th minute of stoppage time.
Match to Forget: FC Dallas defender Nkosi Tafari reacted far too slowly on Teenage Hadebe's late equalizer. Tafari was in position to clear the ball away and secure all three points for his team.
---
RSL 2, Rapids 2
(Jefferson Savarino 45+4′, Justin Meram 51′) – (Diego Rubio 67′ (pen), Lalas Abubakar 89′)
---
Man of the Match: Jefferson Savarino played a key role in fueling the RSL attack. He scored the team's first goal and provided three key passes.
Moment of the Match: Lalas Abubakar scored his second goal in two matches, this time to save a point at Rio Tinto Stadium in the 89th minute.
Match to Forget: RSL centerback Marcelo Silva gave up a penalty kick with a reckless challenge. He also failed to close down on Lalas Abubakar for the Rapids' late equalizing goal.
---
Orlando City 1, Inter Miami 0
(Damion Lowe (OG) 90+2′)
---
Man of the Match: Orlando City defensive midfielder Cesar Araujo stopped plenty of Inter Miami attacks before they could take shape. Araujo made five tackles.
Moment of the Match: An own goal in the second minute of stoppage time by Damion Lowe was the end result many pushes forward from Orlando City's attack.
Match to Forget: Damion Lowe had a difficult time stopping a cross late in the match, leading to the ball ricocheting off his thigh and landing in the goal to hand Orlando City all three points.
---
Friday
---
Union 7, D.C. United 0
(Alejandro Bedoya 9′, 37′, Julian Carranza 22′, 25′, 72′, Mikael Uhre 45+2′, 59′)
---
Man of the Match: Julian Carranza's first MLS hat trick helped spark a dominant home win for the Union. Carranza missed a penalty in the 70th minute, but made good on his mission to complete the hat trick with a clean finish just two minutes later.
Moment of the Match: Alejandro Bedoya's opening goal set the tone for a frantic first half at Subaru Park.
Match to Forget: The entire backline struggled for D.C. United but nobody struggled more than Donovan Pines in his 45 minutes on the pitch. Pines was switched for Nigel Robertha at halftime after an ineffective showing.
---
LAFC 3, LA Galaxy 2
(Jose Cifuentes 17′, 70′, Cristian Arango 72′) – (Samuel Grandsir 55′, Rayan Raveloson 81′)
---
Man of the match: Jose Cifuentes scored the opener for LAFC in the 17th minute with a free header off a corner kick and used his head for another goal off an in-swinging cross from Carlos Vela to give LAFC a 2-1 lead. The 23-year-old midfielder also had seven successful tackles and 10 duels won.
Moment of the Match: Shortly after Cifuentes scored his brace, Cristian Arango added a third, beating Galaxy goalkeeper Jonathan Bond and scoring the eventual match-winner for the Black and Gold.
Match to Forget: Raheem Edwards. One of the first players to play for both sides of El Traffico, Edwards endured a tough night at left-back, struggling to deal with Carlos Vela and offering little going forward.
---
Whitecaps 1, Loons 3
(Lucas Cavallini 66′) – (Kemar Lawrence 71′, Luis Amarilla 84′, Franco Fragapane 88′)
---
Man of the Match: Franco Fragapane stayed dangerous on the wing all night for the Loons, with three key passes. His persistence paid off in the 88th minute with a goal to seal the win.
Moment of the Match: This match seemed bound for a stalemate, until Luis Amarilla uncorked a long-range shot that hit the back of the net in the 84th minute.
Match to Forget: Cristian Dajome failed to mark Kemar Lawrence at the back post on a corner kick, leading Lawrence to score the equalizing goal in the 71st minute.