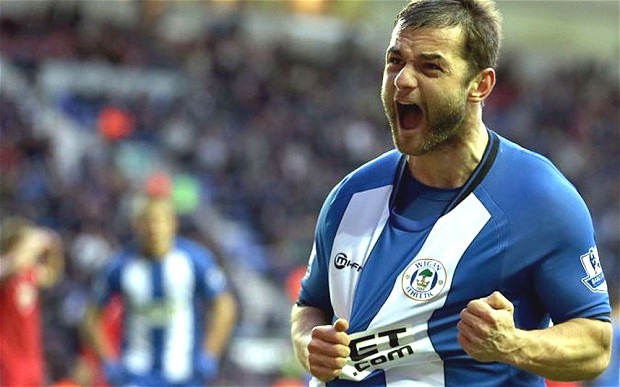 By RYAN TOLMICH
The Chicago Fire have been in pursuit of midfielder Shaun Maloney since at least November, and it appears that the club is finally about to get its man.
Malone is reportedly set to join the Fire as early as this week after being informed that he is free to leave current club Wigan Athletic. Maloney, who has scored 14 goals in 74 games for the club, has appeared in 22 games for the Lactics this season.
"In talks with Shaun, he wants to come to us," Fire head coach Frank Yallop told the Fire Confidential podcast. "It's just obviously Wigan have the player and they own him until July. We're just trying to work something out. I feel we'll get something done, whether it's yes or no, in the next two or three days, so that's what we're trying to do."
Here are some more of Monday's news and notes from around MLS:
MIAMI MAYOR REMAINS SUPPORTIVE OF MLS DESPITE LACK OF COMMUNICATION
All appears to be quiet when it comes to David Beckham's Miami MLS expansion, but the city's mayor remains supportive in the meantime.
Carlos Gimenez hasn't heard from Beckham's group in four or five months, but the mayor continues to hold out hope that the group can find a way to establish a plan for a stadium in the city.
"Anything I can do to help them, I will. But I told them, 'Why don't you go and do your due diligence and come back when you're ready.' That hasn't happened yet," Gimenez said. "I know that they haven't given up. They're actively looking, but they really haven't told me where and what their plans are.
"I'm in favor of them coming, I'm in favor of the Beckham brand because I just think soccer is going to grow in popularity. Soccer is more and more an important part of this community," Gimenez added. "It's up to them. It's all in their hands."
Gimenez also admitted that he understands the difficulty in acquiring the land required for such a project while also reiterating the belief that the ownership group needs to find an area with a certain look and feel in order to succeed.
"Downtown property is very expensive," Gimenez said. "We had one parcel, a quarter of an acre, sell for $125 million. He has to assemble nine or 10. I'm not saying they are all $125 million, that was on the water, but it's hard to assemble those pieces. So that's why he was looking for the county for a lease property.
"They wanted a certain feel to the team. They wanted to be urban, they wanted that march to the match [for fans], and so there are few places that that can happen. But the county is a big place and they're going to have to look at their numbers and what they project their attendance is going to be here, what their attendance is going to be there."
ACCAM, M'BOLHI FEATURE IN AFRICAN CUP OF NATIONS
The Chicago Fire's David Accam and Philadelphia Union's Rais M'Bolhi both featured for their respective countries on Monday in the African Cup of Nations with varying results.
Accam's Ghana fell 2-1 to Senegal after conceding a stoppage-time winner, while M'bolhi and Algeria came from behind to top South Africa, 3-1.
M'bolhi played all 90 minutes for the Dessert Warriors and made a series of major saves to keep South Africa off the board. M'bolhi's best effort came in the first half, as the Union goalkeeper thwarted a 2-on-1 opportunity to keep the game scoreless heading into halftime.
Accam, meanwhile, was brought into the game in the 88th minute in a contest that appeared destined to remain deadlocked before Senegal Moussa Sow netted the winner in the 93rd minute.
REVOLUTION ACQUIRE OKOLI FROM SOUNDERS
Following a trade at last week's MLS Draft, the New England Revolution have received their payment from the Seattle Sounders in the form of Sean Okoli.
Okoli, a former homegrown signing for the Sounders, will join the Revs following a draft day trade that saw the Eastern Conference champions send the Sounders the 33rd overall pick, which was used to select goalkeeper Tyler Miller.
Okoli made three appearances for the Sounders in 2014, his first season as a professional, and provided an assists in the club's friendly against Tottenham.
TFC TO REVEAL DETAILS OF NEW USL PRO CLUB ON WEDNESDAY
Toronto FC announced that the club was set to branch out into USL Pro back in November, and now the team will provide specifics on just how that will all take place.
The club plans to unveil information regarding the new team Wednesday in an event that will be attended by general manager Tim Bezbatchenko, T2 head coach Jason Bent, Mayor Maurizio Bevilacqua and Ontario Soccer Association President Ron Smale.
The event will see the club reveal information regarding the team's name, logo and home ahead of its first USL Pro campaign.
—-
What do you think of Maloney's potential move to the Fire? What developments do you expect in Miami in 2015? How will Okoli fare with New England? Excited for the new USL Pro teams?
Share your thoughts below.