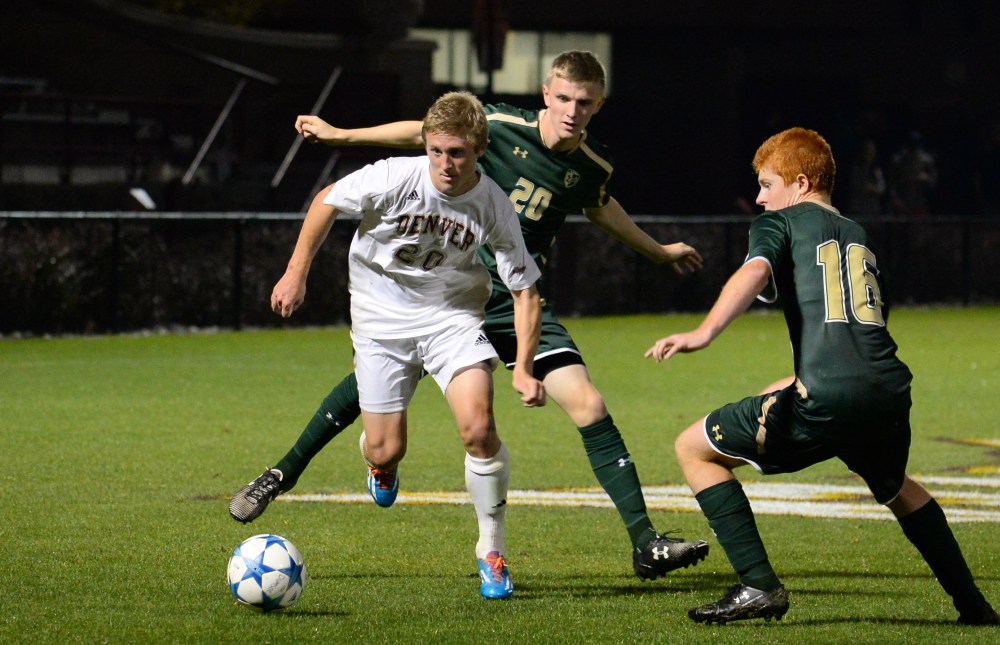 Head coach Jamie Franks has Denver believing it can compete against the nation's best, and results to date have proven just as much.
To keep their undefeated record intact, the Pioneers, ranked 10th in the latest SBI Top 25 and seventh in the current NCAA Men's Soccer RPI, defeated South Florida, which is currently ranked eighth in the NCAA RPI, by a score of 1-0 Tuesday.
"I still don't think teams have appreciated what we've done just because it's one season," junior forward Chandler Crosswait told SBI. "We're not a program that has been known to have success in the (NCAA) tournament or to play on the road, so I think (teams) do think it's kind of a fluke that we are (ranked highly), but I think most are starting to realize, we're beating these big-time teams."
Coach Franks told SBI that the team started gaining this confidence against UC Santa Barbara in New Mexico.
"We were down, 1-0. We played pretty well in the first half, they got an early goal from a mental lapse from us, and just the response from the group when we came out in the second half and scored two goals," Franks told SBI. "I think from then on the guys have realized that we are as good as anybody else when we execute."
Sophomore midfielder Alex Underwood was one of those players who gained confidence from the road trip to Albuquerque. Underwood has tallied two goals and three assists this season.
"We felt like we had something to prove, had kind of a chip on out shoulder, so going into that weekend and playing against UCSB and giving up a pretty early goal, I think a lot of Denver teams in the past wouldn't really have responded very well to that, but I think that's just a testament to our group," Underwood told SBI. "We scored two goals right at the start of the second half to get back into the game, and we ended up tying, but we felt like we out-played them a little bit.
"That just solidified our belief that we're a really good team, that we can play with anyone."
Underwood and Crosswait are not the only Pioneers pulling their weight, as Reagan Duncan has six assists, tied for second-most across the nation. Andre Shinyashiki and Cole Stevenson have also contributed three goals apiece.
The Pioneers have finished with the Summit League regular season title the past two years, and they also captured the conference tournament in 2014. Their 8-0-1 record this season suggests they are heading down the road to another appearance in the NCAA tournament.
With a gritty tie against UCSB and wins against strong sides from across the nation, including San Diego, Saint Louis and now South Florida, an at-large bid may be on the cards if Denver's fine form remains.
"For us, every game, we're really trying to just get better. I think, above everything else, everybody asks, 'what's going on?' and 'why is Denver all of a sudden in the top 10?' It's the mentality of the boys. They're very focused," Franks added.
Franks, who is in his first season as head coach, said the focus remains on improving and peaking at the end of the season, as the NCAA tournament is a beast of its own. He said you sometimes have to win dirty and ugly, so games during the regular season serve as a learning experience for the road ahead.
"I follow all of their games. A big part of me is there with coach Franks and the boys," former Denver and current Wake Forest head coach Bobby Muuss said. "Jamie has done an incredible job of getting organized, and they believe more than they ever have. I'm excited to see their success."
While Franks said he is focused on taking the rest of the season one game at a time in order to potentially keep an undefeated record intact, a goal he shared with his team at the beginning of the season is starting to sink in with the players.
"We set a goal for the season: to make it to the College Cup," Underwood said. "Our coach, Jamie, our assistant coach Levi (Rossi), they both made College Cups, Jamie won a College Cup when he was a player, so they know what it takes, and they kind of set this goal up for us in the spring. They always told us you need to start believing more in that goal — that we're a really good team. We started to really buy-in when Jamie took over."