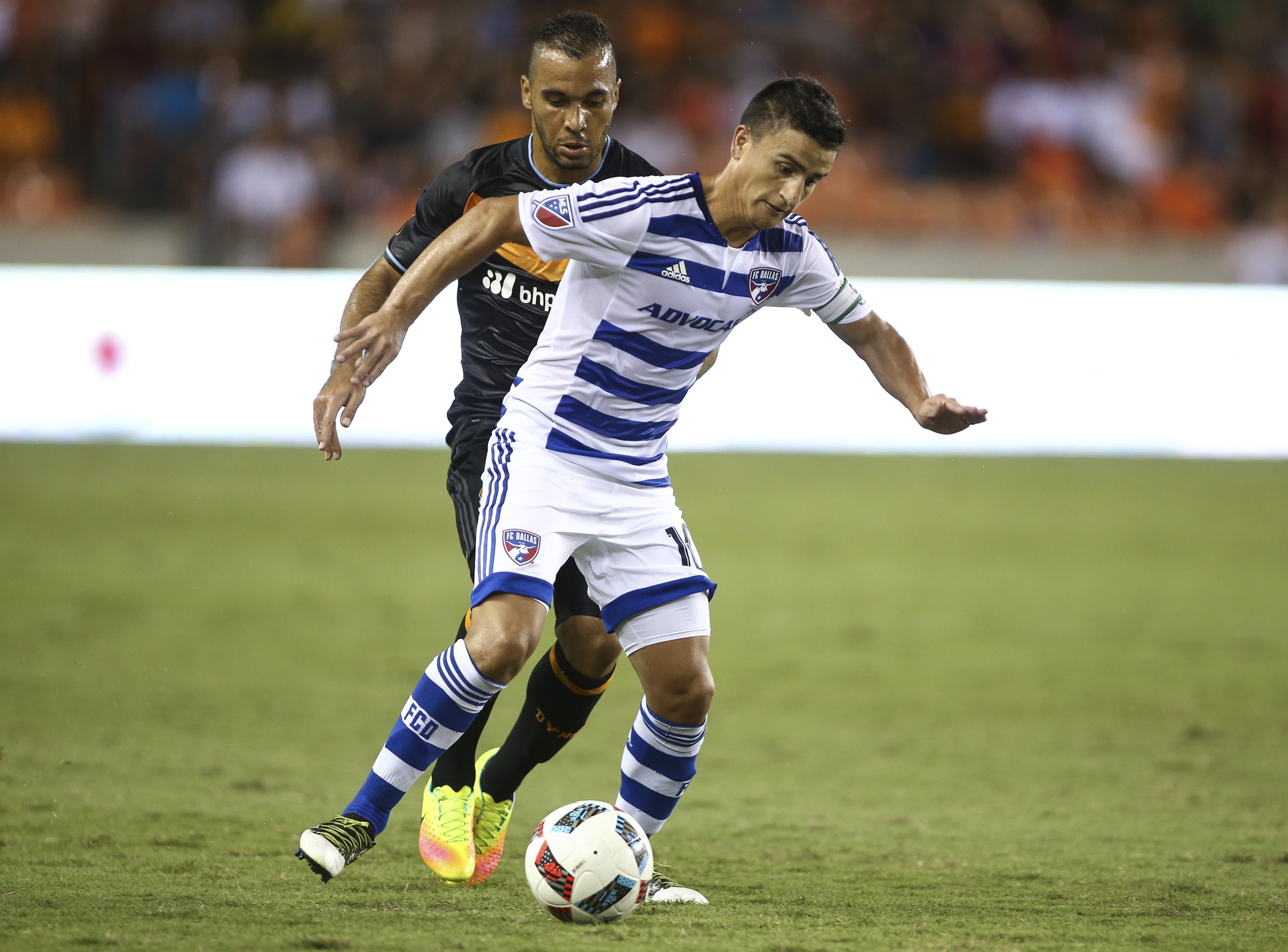 For 45 minutes, the Houston Dynamo looked to be the better side on Saturday night, but a second half goal explosion saw FC Dallas reassert themselves as kings of Texas.
A brace from Michael Barrios and a penalty kick finish from Mauro Diaz led FC Dallas' second half run, sealing a 3-1 win over the Dynamo on Saturday at BBVAA Compass Stadium. The win earns FC Dallas a five-point cushion atop the West, while the Dynamo remain bottom of the conference table.
The Dynamo opened the scoring in the opening half with a goal from a fairly unlikely source as Alex fired his third goal of the year in the 19th minute. The lead stood until halftime, but the FC Dallas attack ignited in the second half with a trio of goals.
Diaz started the run with a 59th minute penalty kick, placing a shot after Raul Rodriguez was called for a handball. Just a minute later, Barrios was celebrating his first as the forward fired home a long ball from Maynor Figueroa.
Barrios' second came 19 minutes later. The FC Dallas forward magnificently curled home a pass from Tesho Akindele, sealing the win for FC Dallas.
The Western Conference leaders next take the field next Saturday for a clash with the defending MLS Cup champion Portland Timbers, while the Dynamo are off until a September 9 visit to Sporting Kansas City.
MAN OF THE MATCH
Michael Barrios was the start of Saturday's win, firing his seventh and eighth goals of the year to help pad FC Dallas' lead atop the West.
MOMENT OF THE MATCH
Just moments after Mauro Diaz fired FC Dallas' equalizer, Barrios buried the go-ahead goal to firmly turn the tide.
MATCH TO FORGET
Raul Rodriguez's distribution was poor throughout Saturday night's match, and his handball in the box kickstarted the FC Dallas comeback.